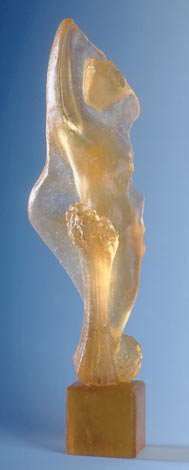 Cérès, Trophée de la Philatélie, La Poste.
cristal Daum. 2001 h.37cm
Séolane, pendentif Cristal de Sèvres 2000
modèle recréé en 2011
Clarée, vase, Cristal de Sèvres, 2000, h.38cm
modèle recréé en 2010
une aurore Edition d'Art Daum 375 ex 2003 h. 52 cm
Photo JCGuerlain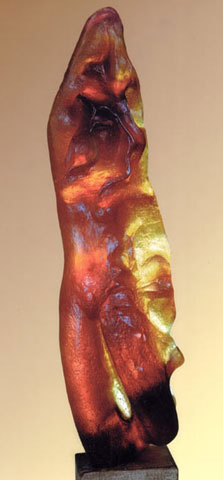 "A Daybreak" : This sculpture gives an impression of glory : it bursts into an aura of light that relates it to the way Christian glory has been represented in art, through centuries, in the Western world. Although unawares and unwillingly, we have got used to mixing up beauty with Christian glory, the aura about people with the halo of saints. It could account for the rage of -profane- avant-gardists in art who, during the 20th century depreciated beauty whenever it compromised with ecclesiastic lyricism. Originated by the biblical world, Christian glory thus understood was but a way of "casting" saintliness, the divine and the supernatural, "aside" and into high clouds, distant skies or sanctuary, a way of dissociating people and their glorious condition, keeping the latter for some sort of beyond world. So much so that attention to human common condition ended up being discredited by that teaching.
For centuries, religious sculpture and painting have initiated the human eye into the various forms of the lyricism and brightness of saintliness, into its strained splendour, into its artificial radiance. Meanwhile, the rest of the world was regarded as dull, trivial, devoid of interest. It is important to keep in mind that, of course, such glory extended to kings and grandees … which, today, turn out to be media-staged stars and other advertised figures. Artificial effects have reached levels that would have seemed unthinkable, only a few years ago. Therefore, what should be the sculptor's stand nowadays, how should he convey faces and bodies, gravity and happiness, among others, in that stream of complex legacies. Is he going to be wavering between still very much alive excesses and counter-excesses ? I have taken a stand : rediscover and convey the fundamental pride and modesty of people, in other words display a respectful, sensitive and benevolent attention to the glamour of daily life where the true aura of people comes to light. Do so, even if I am aware of the artifice in sculpture and of its being identified with religious glory –although when it comes to a woman's happiness through her sexuality, there is no risk of confusion with religion.
(Translated by Michèle Bustros)